OCCULTATION OF UCAC4 282_173851 BY 10199 Chariklo
20160815
---
A 10 second occultation was recorded by Brian Loader, using an SCT Telescope and Watec 910BD camera.
Four misses were recorded for this event.
There was no updated prediction for this event.

Observers:
  1(M) R Horvat & others, Linden Observatory, New South Wales, Australia
  2(M) S Kerr, Rockhampton, Queensland, Australia      
  3    B Loader, Darfield, Canterbury, New Zealand
  4(M) J Milner, Bayswater, Victoria, Australia
  5(M) J Newman, Flynn, Australian Capital territory, Australia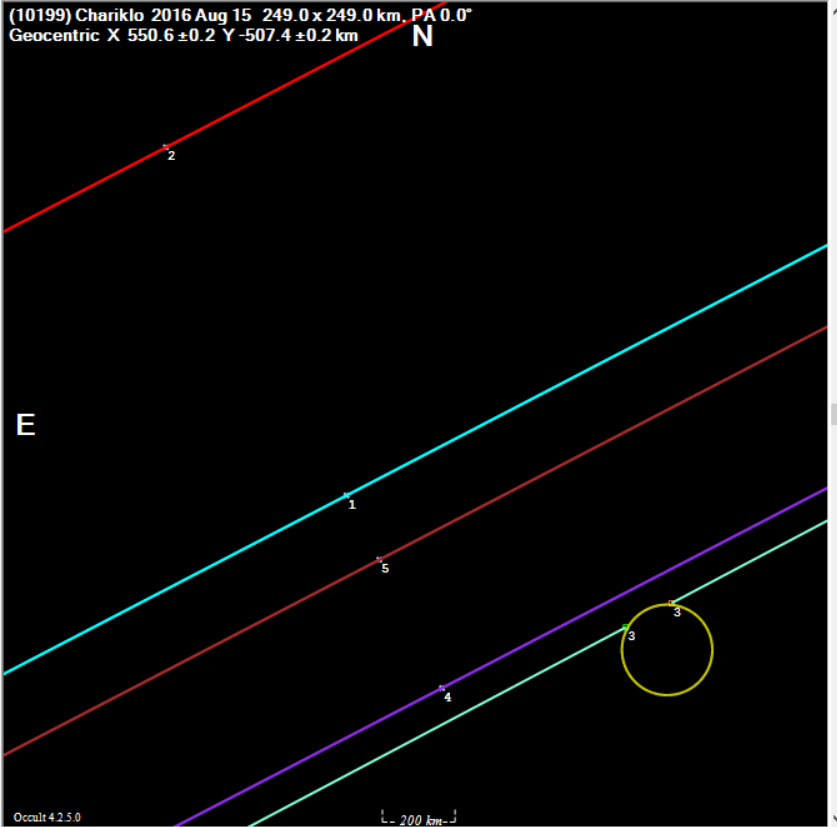 Discussion:
The circle above is plotted at the expected diameter of Chariklo. The circle has been plotted to fit the observed chord.
Observations were made at the limits of the equipment used, and should be viewed with caution.
The figure below shows the Tangra light curve of the occultation.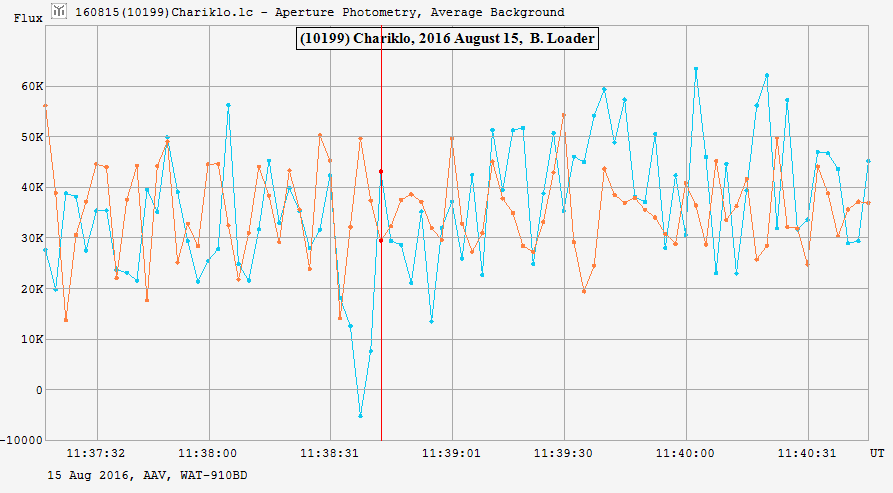 Observational Data:

Observation details for MP ( 10199 ) Chariklo
By Star              UCAC4 282-173851
On 2016-08-15  at 11:41:37.0

_______________________________

Observer   Rob Horvat, Bob Paton, Lachlan Davis, and Dave Gault
Location   Linden Observatory - Evans30
Longitude  +150:29
Latitude   -33:42
Altitude   574 m
Datum      WGS84
Telescope Newtonian
Aperture   76 cm
Seeing     Steady Clear Moon
Camera Type  Grasshopper Express with ADVS              ADVS          
Camera Delay 
Timing     GPS - time inserted Video with frame analysis

Missed

Comments:    

_______________________________

Observer   Stephen Kerr
Location   Rockhampton, Qld, Australia
Longitude  +150:30
Latitude   -23:16
Altitude   50 m
Datum      WGS84
Telescope SCT including Cass and Mak
Aperture   30 cm
Seeing     Slight flickering Clear Severe wind shake
Camera Type  Watec 910BD    PAL/CCIR      
Camera Delay 
Timing     GPS - time inserted Video with frame analysis

Missed

Comments:   Report prepopulated by IOTA Reporting Add-in for OW ver.1.8

_______________________________

Observer   B. Loader
Location   Darfield
Longitude  +172:06
Latitude   -43:28
Altitude   210 m
Datum      WGS84
Telescope SCT including Cass and Mak
Aperture   25 cm
Seeing     Slight flickering Clear Moon lit sky
Camera Type  Watec 910BD    AAV-PAL       
Camera Delay 
Timing     GPS - time inserted Video with frame analysis
Disappearance  11:38:32.42
Reappearance   11:38:42.66
Comments: A "likely" event.  The star disappeared from view on the video for 4 integrated frames.    Poor contrast image due to 90% moon 20° from star. 
Confirmation from another observation very desirable. Report prepopulated by IOTA Reporting Add-in for OW ver.1.8

_______________________________

Observer   Jacquie Milner
Location   Bayswater, Vic, AU
Longitude  +145:14
Latitude   -37:50
Altitude   110 m
Datum      WGS84
Telescope SCT including Cass and Mak
Aperture   20 cm
Seeing     Steady Clear light breeze
Camera Type  Mintron 12v1C-EX             PAL/CCIR      
Camera Delay 
Timing     GPS - time inserted Video with frame analysis

Missed

Comments: The target star was close to the limits of my set-up but I am certain that it was detected on the recording.
 A light breeze made analysis difficult, but visual examination does not indicate that any occultation occurred.  Report prepopulated by IOTA Reporting Add-in for OW ver.1.8

_______________________________

Observer   John Newman
Location   Flynn, ACT, AU
Longitude  +149:02
Latitude   -35:11
Altitude   657 m
Datum      WGS84
Telescope other - specify below
Aperture   41 cm
Seeing     Steady Clear 
Camera Type  Watec 910BD    PAL/CCIR      
Camera Delay 
Timing     GPS - time inserted Video with frame analysis

Missed

Comments:   Report prepopulated by IOTA Reporting Add-in for OW ver.1.8

        
Return to 2016 occultation results
---
[Site Map]
[What's an Occultation?]
[Total Occultations]
[Grazing Occultations]
[Planetary Occultations]
[Jovian Satellite Eclipses]
[Timing Occultations]
[Reporting Observations]
[Coming Events]
[Software]
[About Us]
[Publications]
[Membership]
[Links]
[Top of Page]
[Return to Home Page]