OCCULTATION OF TYC 7379-00351-1 BY 224 Oceana
20160718
---
A 3 second occultation was recorded by John Broughton, using a Newtonian Telescope and Watec 120N+ camera.
One miss was recorded for this event.
View the IOTA update.

Observers:
  1    J Broughton, Brunswick Heads, New South Wales, Australia
  2(M) J Broughton, Newrybar, New South Wales, Australia      
  3(P) Prediction- IOTA Feed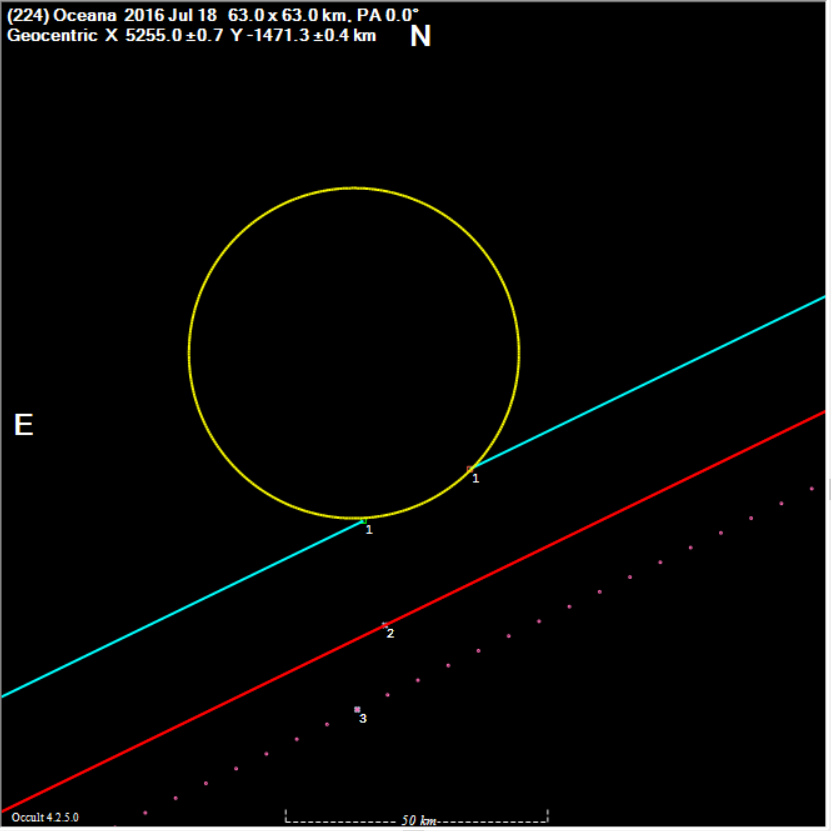 Discussion:
The circle above is plotted at the expected diameter of Oceana. The circle has been plotted to fit the observed chord.
The event appears to be north of the predicted path.
The figure below shows the Tangra light curve of the occultation.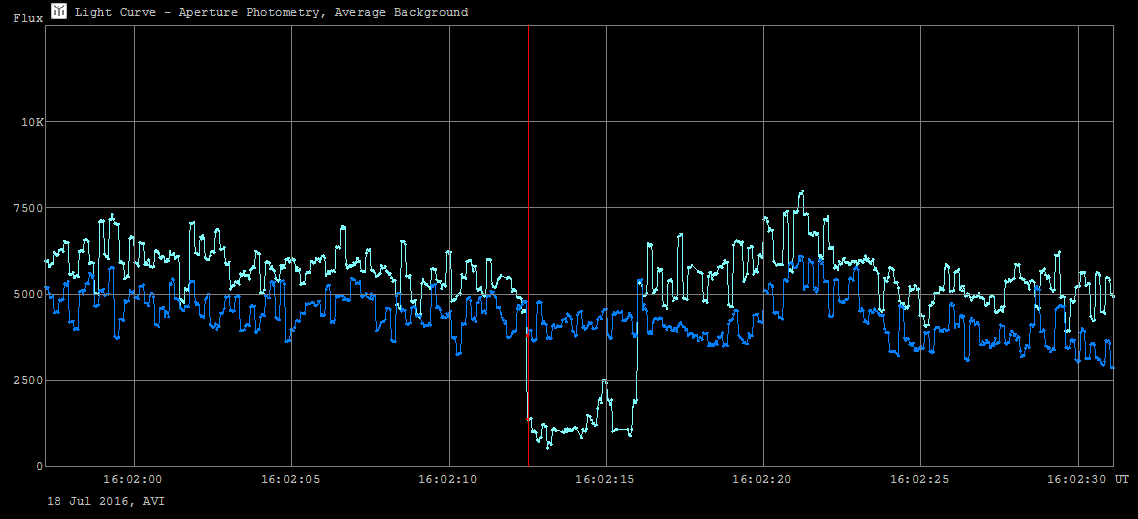 Observational Data:

Observation details for MP ( 224 ) Oceana
By Star              TYC 7379-00351-1 
On 2016-07-18  at 16:02:17.0

_______________________________

Observer   John Broughton
Location   Brunswick Heads, NSW, AU
Longitude  +153:32
Latitude   -28:32
Altitude   10 m
Datum      WGS84
Telescope Newtonian
Aperture   25 cm
Seeing     Steady Clear 
Camera Type  Watec 120N+    PAL/CCIR      
Camera Delay 
Timing     GPS - other linking Video with frame analysis
Disappearance  16:02:12.54
Reappearance   16:02:16.06
Comments:   

_______________________________

Observer   John Broughton
Location   Newrybar, NSW, AU
Longitude  +153:31
Latitude   -28:43
Altitude   16 m
Datum      WGS84
Telescope Refractor
Aperture    8 cm
Seeing     Steady Clear 
Camera Type  LN-300-11673   PAL/CCIR      
Camera Delay 
Timing     GPS - other linking Video with frame analysis

Missed

Comments:   

        
Return to 2016 occultation results
---
[Site Map]
[What's an Occultation?]
[Total Occultations]
[Grazing Occultations]
[Planetary Occultations]
[Jovian Satellite Eclipses]
[Timing Occultations]
[Reporting Observations]
[Coming Events]
[Software]
[About Us]
[Publications]
[Membership]
[Links]
[Top of Page]
[Return to Home Page]