OCCULTATION OF 4UC 479-001621 BY 82 Alkmene
2015 Aug 26
---
Two miss observations were reported by Brian Loader and Ashley Pennell.
There was no updated prediction for this event.
View the Personal update.

Observers:
   1(M) B Loader,Darfield                    
  2(M) A Pennell,Dunedin NZ                 
  3(P) Prediction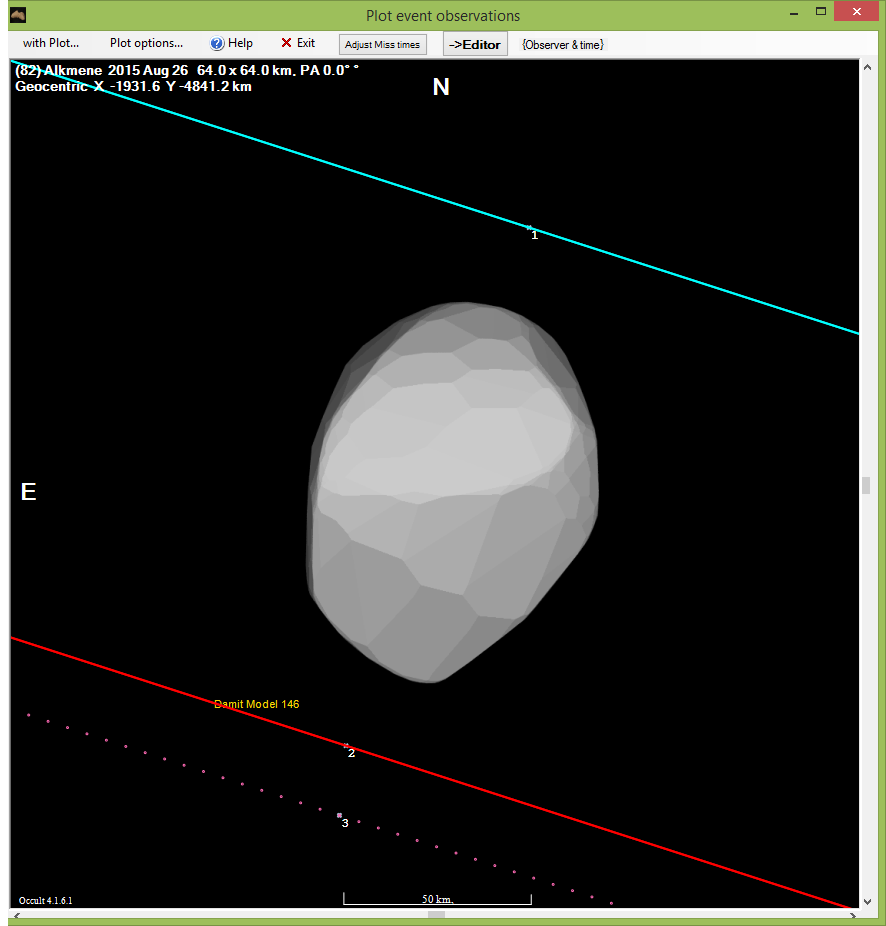 Discussion:
Included is one of the two ISAM models of (82) Alkmene. It is not possible to determine whether Brian and Ashley was north or south of the event although it should be noted that the prediction given here is based on a relatively old Astorb dataset.
Observational Data:

Observation details for MP ( 82 ) Alkmene
By Star              UCAC4 479-001621
On 2015-08-26  at 13:42:46.0

_______________________________

Observer   B. Loader
Location   Darfield
Longitude  +172:06
Latitude   -43:28
Altitude   210 m
Datum      WGS84
Telescope SCT including Cass and Mak
Aperture   25 cm
Seeing     Steady Clear 
Camera Type  Watec 910BD    AAV-PAL       
Camera Delay 
Timing     GPS - time inserted Video with frame analysis

Missed

Comments:   Report prepopulated by IOTA Reporting Add-in for OW ver.1.8

_______________________________

Observer   B. Loader
Location   Darfield
Longitude  +172:06
Latitude   -43:28
Altitude   210 m
Datum      WGS84
Telescope SCT including Cass and Mak
Aperture   25 cm
Seeing     Steady Clear 
Camera Type  Watec 910BD    AAV-PAL       
Camera Delay 
Timing     GPS - time inserted Video with frame analysis

Missed

Comments:   Report prepopulated by IOTA Reporting Add-in for OW ver.1.8

_______________________________

Observer   ash pennell
Location   Dunedin NZ
Longitude  +170:29
Latitude   -45:52
Altitude   136 m
Datum      WGS84
Telescope SCT including Cass and Mak
Aperture   35 cm
Seeing     Steady Clear 
Camera Type  Watec 120N+    NTSC/EIA      
Camera Delay 
Timing     GPS - time inserted Video with frame analysis

Missed

Comments:   


        
Return to 2015 occultation results
---
[Site Map]
[What's an Occultation?]
[Total Occultations]
[Grazing Occultations]
[Planetary Occultations]
[Jovian Satellite Eclipses]
[Timing Occultations]
[Reporting Observations]
[Coming Events]
[Software]
[About Us]
[Publications]
[Membership]
[Links]
[Top of Page]
[Return to Home Page]