OCCULTATION OF TYC 6293-00132-1 BY 2774 Tenojoki
20150821
---
Two misses were observed by Brian Loader and Ashley Pennell. Compared to the prediction, it would appear that the asteroid shadow has likely passed between them.
View the IOTA update.

Observers:
  1(M) B Loader,Darfield                    
  2(M) A Pennell,Dunedin NZ                 
  3(P) Prediction - IOTA Feed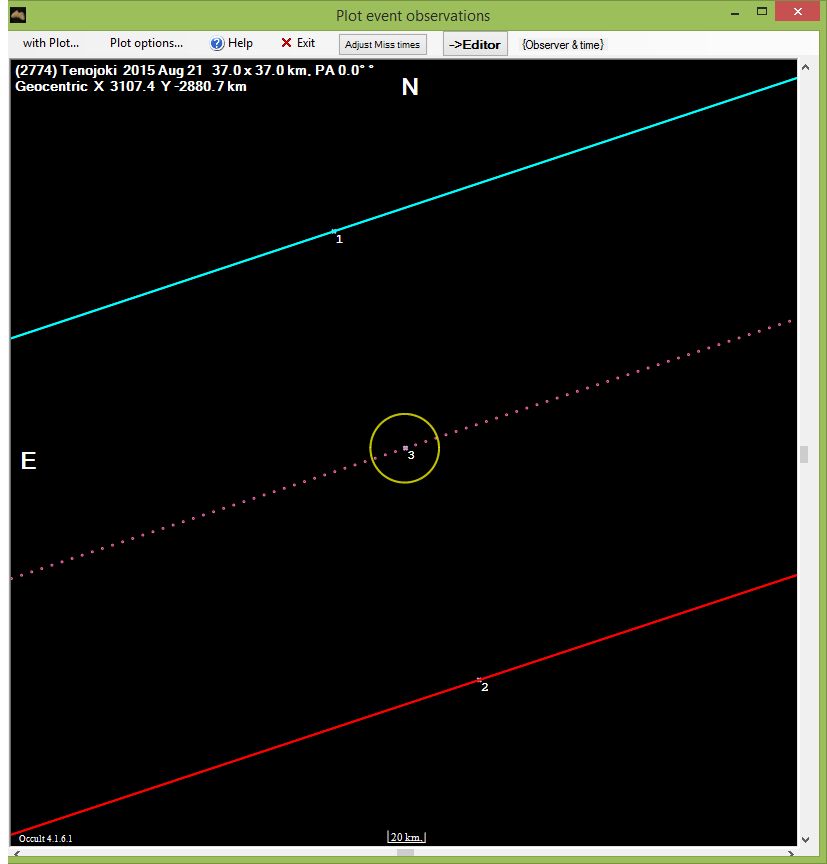 Discussion:
The circle above is plotted at the expected 37 km diameter of Tenojoki. It would appear likely that the small asteroid shadow has passed between Brian and Ashley although this of course cannot be certain.
Observational Data:

Observation details for MP ( 2774 ) Tenojoki
By Star              TYC 6293-00132-1 
On 2015-08-21  at 12:16:47.0

_______________________________

Observer   B. Loader
Location   Darfield
Longitude  +172:06
Latitude   -43:28
Altitude   210 m
Datum      WGS84
Telescope SCT including Cass and Mak
Aperture   25 cm
Seeing     Steady Clear 
Camera Type  Watec 910BD    AAV-PAL       
Camera Delay 
Timing     GPS - time inserted Video with frame analysis

Missed

Comments:   Report prepopulated by IOTA Reporting Add-in for OW ver.1.8

_______________________________

Observer   ash pennell
Location   Dunedin NZ
Longitude  +170:29
Latitude   -45:52
Altitude   136 m
Datum      WGS84
Telescope SCT including Cass and Mak
Aperture   35 cm
Seeing     Steady Clear 
Camera Type  Watec 120N+    NTSC/EIA      
Camera Delay 
Timing     GPS - time inserted Video with frame analysis

Missed

        
Return to 2015 occultation results
---
[Site Map]
[What's an Occultation?]
[Total Occultations]
[Grazing Occultations]
[Planetary Occultations]
[Jovian Satellite Eclipses]
[Timing Occultations]
[Reporting Observations]
[Coming Events]
[Software]
[About Us]
[Publications]
[Membership]
[Links]
[Top of Page]
[Return to Home Page]