OCCULTATION OF 20141229_2617_Jiangxi BY 2617 Jiangxi
2014 December 17
---
Three clearly observed misses were recorded for this event.
View the updated prediction.

Observers:
  1(M) D Herald,Murrumbateman, NSW, AU      
  2(M) D Gault,Kuriwa Observatory, NSW, AU  
  3(M) T Barry,Werrington Downs             
  4(P) Prediction, Personal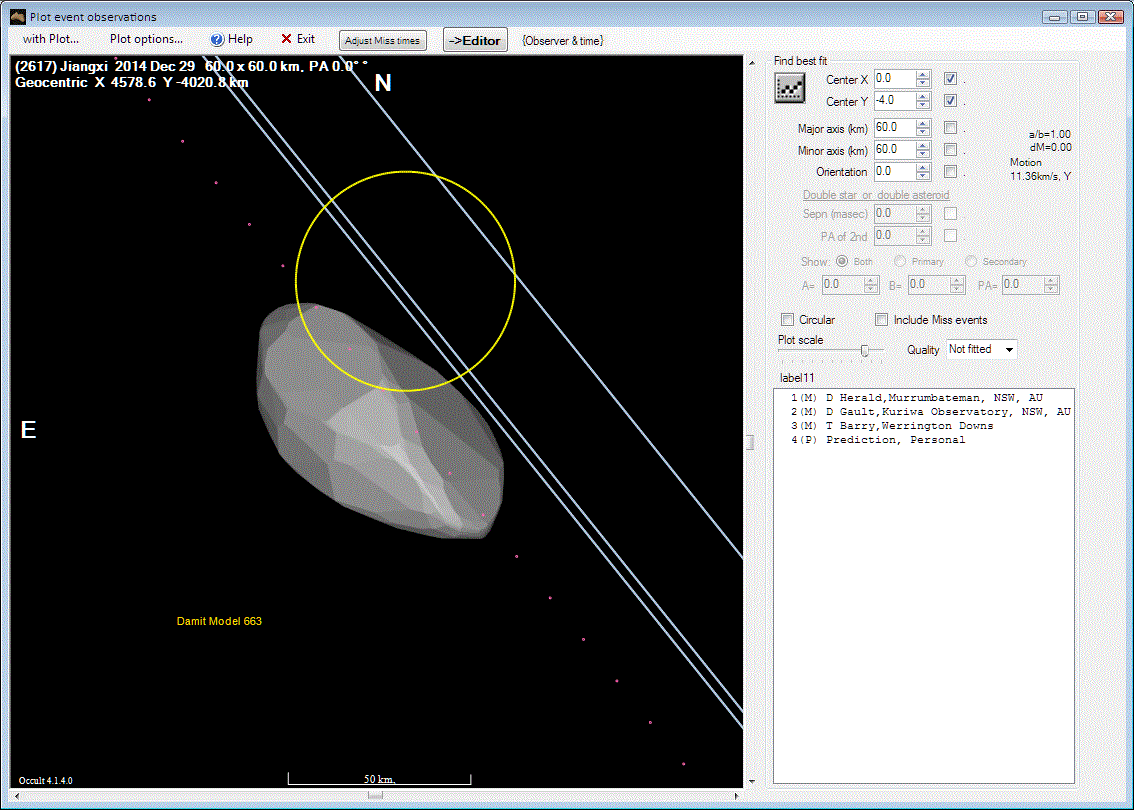 Discussion:
The circle above is plotted at the expected 60 km diameter of Jiangxi. . The DAMIT 3D model has been overlaid on the showing how the orientation lowered the probability of a positive chord. With no positive chords we cannot say where the actual path was, so the circle has been plotted on near the predicted path.
Observational Data:


Observation details for MP ( 2617 ) Jiangxi
By Star              UCAC4 448-001616
On 2014-12-29  at 13:26:41.0

_______________________________

Observer   Dave Herald
Location   Murrumbateman, NSW, AU
Longitude  +148:59
Latitude   -34:57
Altitude   594 m
Datum      WGS84
Telescope SCT including Cass and Mak
Aperture   40 cm
Seeing     Slight flickering Fog 
Camera Type  WAT910BD       PAL/CCIR      
Camera Delay -0.1
Timing     GPS - time inserted Video with frame analysis

Missed

Comments:  Lightcurve from 13:25:30 to 13:27:40 by Tangra v3.1.17
 using AperturePhotometry/AverageBackground. 
Analysis by AOTA v4.1.4.1. 
Report prepopulated by IOTA Reporting Add-in for OW ver.1.8

_______________________________

Observer   Dave Gault
Location   Kuriwa Observatory, NSW, AU
Longitude  +150:38
Latitude   -33:39
Altitude   286 m
Datum      WGS84
Telescope SCT including Cass and Mak
Aperture   30 cm
Seeing     Steady Clear 
Camera Type  Grasshopper Express with ADVS              ADVS          
Camera Delay 0
Timing     GPS - time inserted Video with frame analysis

Missed

Comments:    

_______________________________

Observer   Tony Barry
Location   Werrington Downs,NSW,AU
Longitude  +150:43
Latitude   -33:44
Altitude   66 m
Datum      WGS84
Telescope SCT including Cass and Mak
Aperture   25 cm
Seeing     Steady Clear other - list in comments
Camera Type  Grasshopper Express with ADVS              ADVS          
Camera Delay 0
Timing     GPS - time inserted Video with frame analysis

Missed

Comments:   

        
Return to 2014 occultation results
---
[Site Map]
[What's an Occultation?]
[Total Occultations]
[Grazing Occultations]
[Planetary Occultations]
[Jovian Satellite Eclipses]
[Timing Occultations]
[Reporting Observations]
[Coming Events]
[Software]
[About Us]
[Publications]
[Membership]
[Links]
[Top of Page]
[Return to Home Page]