OCCULTATION OF TYC 1725-0015-1 BY 393 Lampetia
2014 August 24
---
This was a transPacific event with 17 stations registered in Occult Watcher by observers in USA and NZ. Sadly both areas had extensive cloud and only 1 Positive and 4 clearly observed misses were recorded.
View the IOTA prediction.

Observers:
1(M) C McPartlin,Santa Barbara, CA        
2(M) D Watson,Thornton near Whakatane, NZ 
3(M) B Dunford,Naperville, IL             
4    D Dunham,Macon, MO                   
5(P) Predicted Centerline w/Time          
6(M) A Pennell,Dunedin, NZ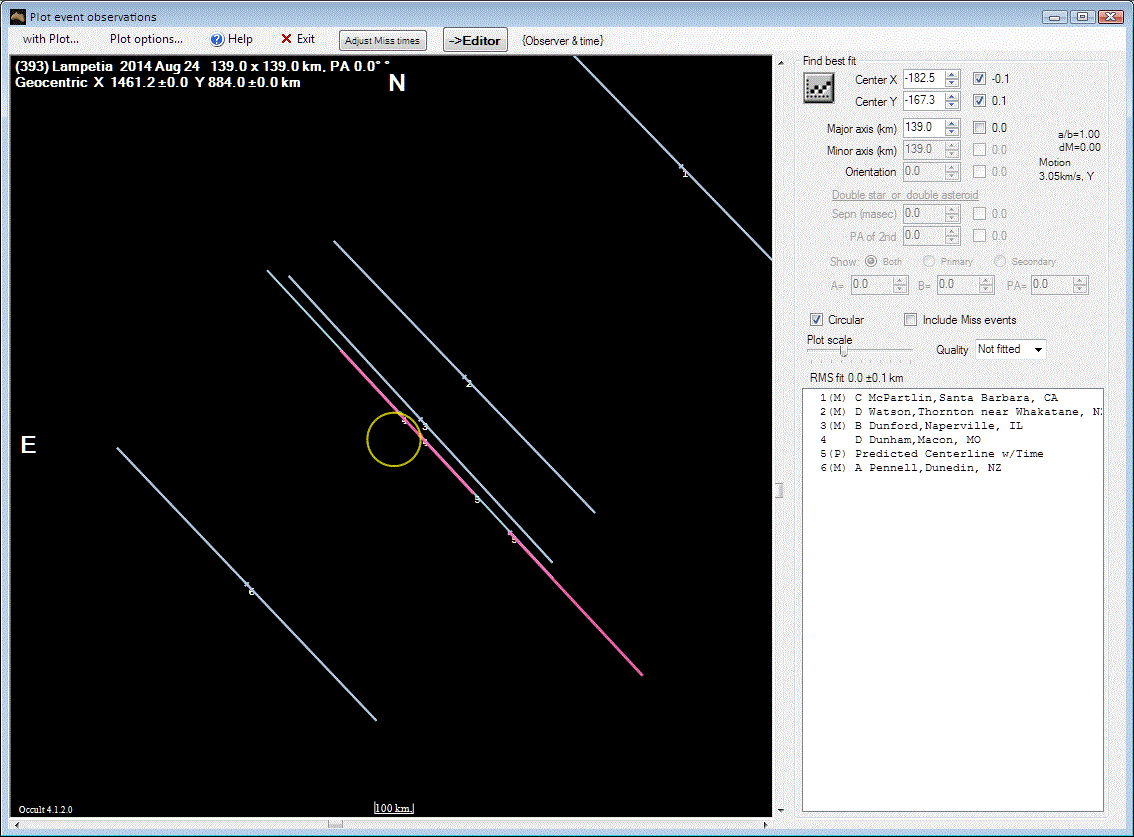 Discussion:
The circle above is plotted at the expected 134 km diameter of Lampetia. With one positive chord and a nearby miss we can be sure of the path and that the path was south of the predicted line.
Observational Data:


Observation details for MP ( 393 ) Lampetia
By Star              TYC 1725-00015-1 
On 2014-08-24  at 10:16:30.0

_______________________________

Observer   Chuck McPartlin
Location   Santa Barbara, CA
Longitude  -119:47
Latitude   +34:27
Altitude   51 m
Datum      WGS84
Telescope Refractor
Aperture   13 cm
Seeing     Slight flickering Thin cloud < 2
Camera Type  WAT120N        NTSC/EIA
Camera Delay -0.559
Timing     GPS - time inserted Video, photo or photoelectric

Missed

Comments: Gain was 12/15, gamma was Hi. Clouds moving in. 

_______________________________

Observer   Diana Watson
Location   Thornton near Whakatane, NZ
Longitude  +176:51
Latitude   -37:55
Altitude   3 m
Datum      Other
Telescope SCT including Cass and Mak
Aperture  200 cm
Seeing     Slight flickering Clear
Camera Type  Visual         Other
Camera Delay 0.5
Timing     Tape Recorder + time signal Visual, no PE applied

Missed

Comments: Did not see joining as found star late, though no cloud, 
the star was very low and air contained a lot of pollen so seeing 
poor and I was unable to  get an accurate parting of star and asteroid. 
_______________________________

Observer   Bob Dunford
Location   Naperville, IL
Longitude   -88:07
Latitude   +41:45
Altitude   233 m
Datum      WGS84
Telescope SCT including Cass and Mak
Aperture   20 cm
Seeing     Slight flickering Thin cloud < 2
Camera Type  WAT120N+       NTSC/EIA
Camera Delay -0.159
Timing     GPS - time inserted Video with frame analysis

Missed

Comments:   Report prepopulated by IOTA Reporting Add-in for OW ver.1.8
_______________________________

Observer   David Dunham
Location   Macon, MO
Longitude   -92:27
Latitude   +39:42
Altitude   267 m
Datum      WGS84
Telescope Refractor
Aperture   12 cm
Seeing     Steady Clear
Camera Type  PC164C         NTSC/EIA
Camera Delay 0
Timing     GPS - other linking Video, photo or photoelectric
Disappearance  10:09:39.23
Reappearance   10:09:57.59
Comments: Maxi remote station #5 in back of KLTI radio bldg., in grassy area,
 light dew on objective upon return degraded the recording some.
 IOTA-VTI calibration before at 7:28 & 9:40 UT (event -2.6h and -0.5h) 
and after at 10:34 UT (event +0.4h). Location about 1km N of predicted center. 
Expected mag. drop 0.8 (0.6 R), star mag. 11.1 (10.9 R) with Lampetia mag. 11.1.
_______________________________

Observer   Ash Pennell
Location   Dunedin     NZ
Longitude  +179:29
Latitude   -45:52
Altitude   136 m
Datum      WGS84
Telescope SCT including Cass and Mak
Aperture   35 cm
Seeing     Strong flickering Clear
Camera Type  WAT120N        PAL/CCIR
Camera Delay -0.11
Timing     GPS - time inserted Video with frame analysis

Missed

Comments: very low  

        
Return to 2014 occultation results
---
[Site Map]
[What's an Occultation?]
[Total Occultations]
[Grazing Occultations]
[Planetary Occultations]
[Jovian Satellite Eclipses]
[Timing Occultations]
[Reporting Observations]
[Coming Events]
[Software]
[About Us]
[Publications]
[Membership]
[Links]
[Top of Page]
[Return to Home Page]