OCCULTATION OF HIP 42383 BY 59 Elips
2014 April 24
---
A Three Positive chords were recorded using video OSD technique and one by Visual observation.
One clearly observed miss was recorded for this event.
View the updated prediction.

Observers:
  1    P ANDERSON, Gap, Brisbane, QLD,AU    (visual)
  2    J Bradshaw,Samford Valley, Qld, AU   
  3    J Broughton,Reedy Creek, QLD, AU     
  4(M) J Broughton,Brunswick Heads, NSW, AU 
  5(P) Prediction, April 12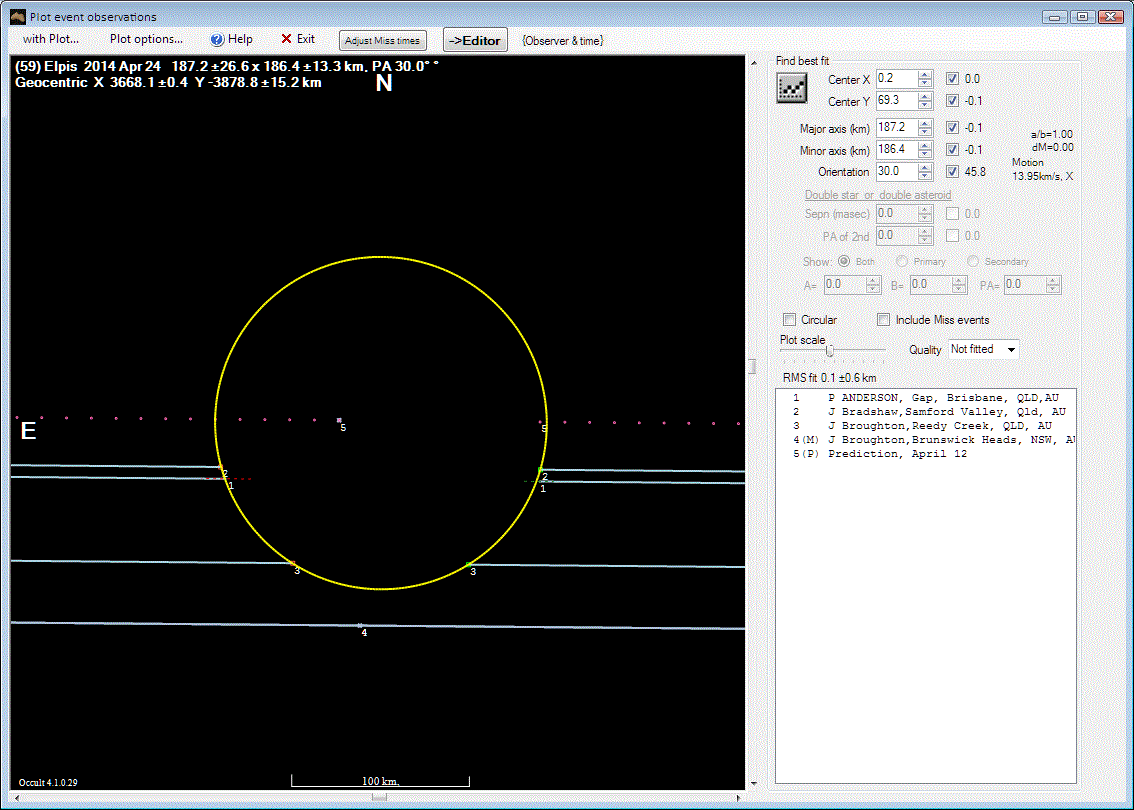 Discussion:
The ellipse above is plotted at the best fit axis ratio as determined by Occult. The size at about 187 km is much larger then the predicted 202 km circle. With 3 chords we can be confident of the path of Elpis and that it was close to the predicted line. Sadly there is no Damit/ISAM/Miriade 3D model that might help to explain the size variation.
The figure below shows Jonathan Bradshaw's Tangra light curve of the occultation.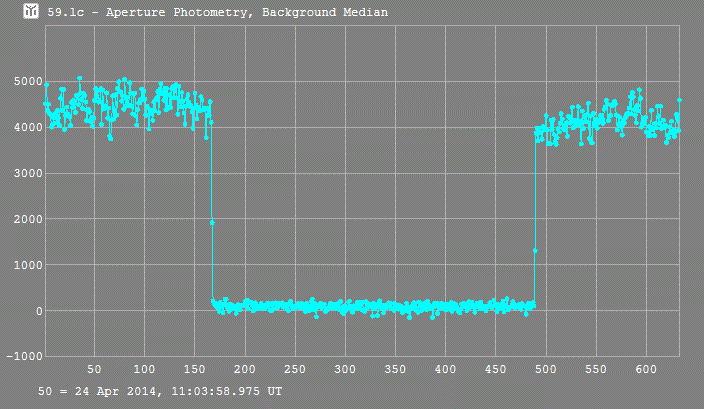 Observational Data:

Observation details for MP ( 59 ) Elpis
By Star              HIP HIP42383
On 2014-04-24  at 11:04:10.0

_______________________________

Observer   Peter ANDERSON
Location   The Gap, Brisbane, Queensland
Longitude  +152:55
Latitude   -27:27
Altitude   171 m
Datum      WGS84
Telescope SCT including Cass and Mak
Aperture   28 cm
Seeing     Steady Broken cloud
Camera Type  Visual         Other
Camera Delay 0.5
Timing     Stopwatch Visual, PE applied
Disappearance  11:04:04.10
Reappearance   11:04:16.70
Comments: A disaster. Early cloud meant setup rushed, so I monitored two stars. 
Static and no radio time signal till 25 minutes later to check disappearance 
stopwatch for time adjustment. Mistriggered re-appearance stopwatch, 
but I had called both out and had the beeper box (unsynchronised) running 
to keep the tape 'honest'. Bit of a mess really.
 Still the event was 12.6 seconds probably +/- 0.5 seconds. 
If the times do not agree with other observers, please 'block shift' - Very sorry.
[ As it happens Peter's time are very close to Jonathan Bradshaw's nearby Video
 times below, so well done Peter despite the problems - jt]

_______________________________

Observer   Jonathan Bradshaw
Location   Samford Valley, Qld, Australia
Longitude  +152:50
Latitude   -27:22
Altitude   80 m
Datum      WGS84
Telescope SCT including Cass and Mak
Aperture   36 cm
Seeing     Steady Clear
Camera Type  G-Star         PAL/CCIR
Camera Delay -0.04
Timing     GPS - time inserted Video with frame analysis
Disappearance  11:04:03.64
Reappearance   11:04:16.54
Comments: Text book bright event showing field accuracy timings  

_______________________________

Observer   John Broughton
Location   Reedy Creek, QLD, AU
Longitude  +153:23
Latitude   -28:06
Altitude   66 m
Datum      WGS84
Telescope SCT including Cass and Mak
Aperture   25 cm
Seeing     Steady Thick cloud > 2
Camera Type  WAT120N+       PAL/CCIR
Camera Delay -0.05
Timing     GPS - time inserted Video with frame analysis
Disappearance  11:04:07.63
Reappearance   11:04:14.71
Comments:   

_______________________________

Observer   John Broughton
Location   Brunswick Heads, NSW, AU
Longitude  +153:32
Latitude   -28:33
Altitude   5 m
Datum      WGS84
Telescope Newtonian
Aperture   32 cm
Seeing     Steady Thick cloud > 2
Camera Type  WAT120N+       PAL/CCIR
Camera Delay -0.05
Timing     GPS - time inserted Video with frame analysis

Missed

Comments:   

        
Return to 2014 occultation results
---
[Site Map]
[What's an Occultation?]
[Total Occultations]
[Grazing Occultations]
[Planetary Occultations]
[Jovian Satellite Eclipses]
[Timing Occultations]
[Reporting Observations]
[Coming Events]
[Software]
[About Us]
[Publications]
[Membership]
[Links]
[Top of Page]
[Return to Home Page]