OCCULTATION OF TYC_5476-00882-1 BY 90482 Orcus
2014 March 01
---
Orcus and Vanth are a binary pair of Trans Neputunian Minor Planets. Orcus was predicted to cross Australia and New Zealand and Vanth was predicted to cross Japan and North Asia and both be occulted by the same star. There were 21 stations registered for Orcus and 8 for Vanth.

A 3 second occultation of Vanth was recorded by Murakami-san (Nayoro-city-obs & Hokkaido-univ-obs group) , Nayoro-city Hokkaido Japan. This implied a north shift of the path.
If Orcus had shifted a similar distance then we should have had several positives in NZ and Aus but all observations were negative.

Seven clearly observed misses were recorded for this event.

View the RIO prediction provided by Felipe Bragas Ribas.

Observers:
  2(M) S Kerr, Rockhampton, QLD,AU
  3(M) W Hanna, Alice Springs, Australia
  4(M) J Broughton, Reedy Creek, QLD, AU
  5(M) J Talbot, Waikanae Beach, NZ
  6(M) M Forbes, Lower Hutt,NZ
  7(M) J Milner, Glen Forrest, WA, AU
  8(M) B Loader, Darfield,NZ
  9(P) Orcus Prediction  7 Feb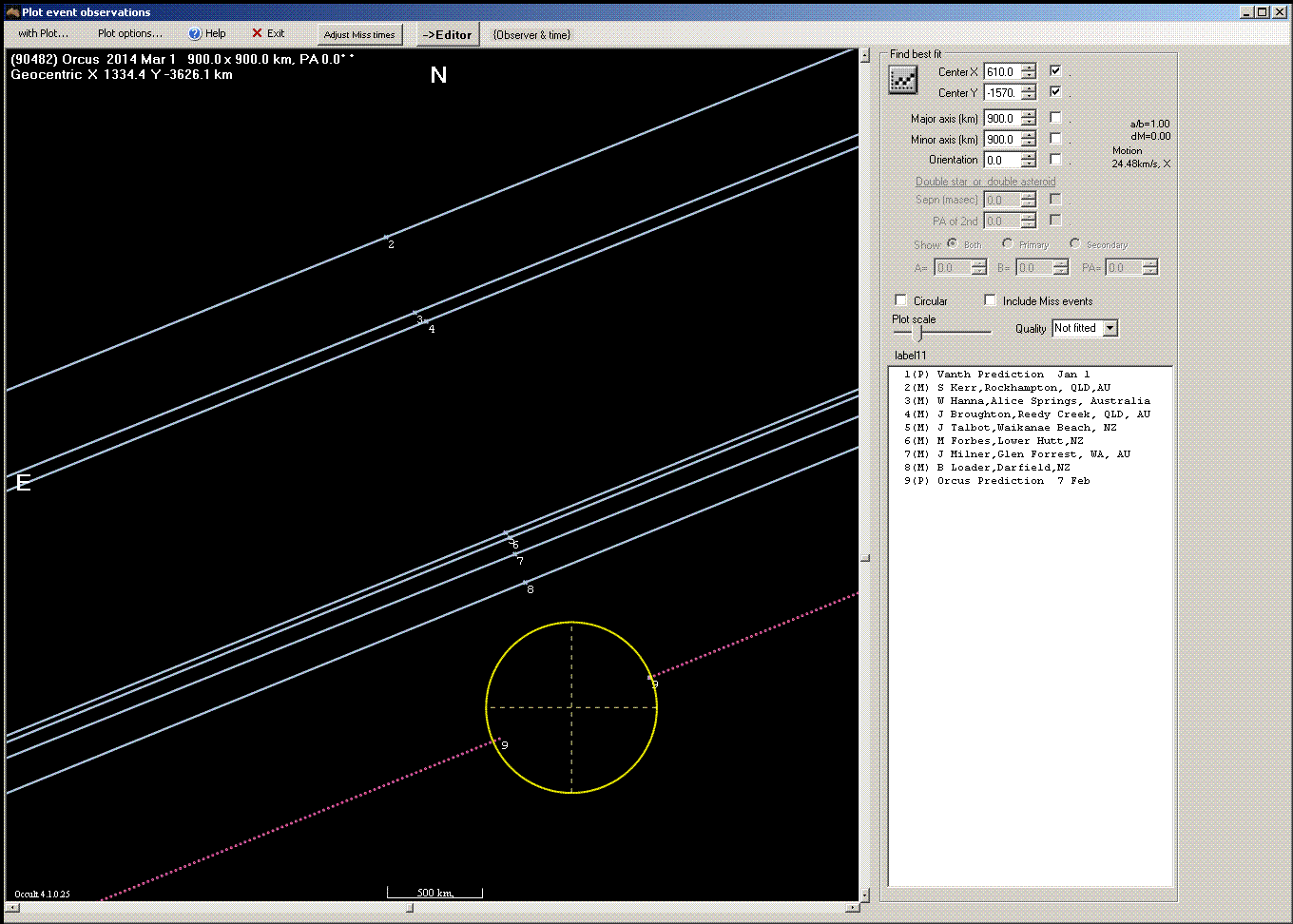 Discussion:
The circle above is plotted at the expected 900 km diameter of Orcus.
The path of Vanth is way off the top of this plot.
With no positive chords we cannot say where the actual path was, so the circle has been plotted on the predicted path.
There were 6 stations on the northern side that were clouded out or had technical problems and there were 2 stations close to the southern predicted edge on Reunion Island who reported misses so it seems unlikely that there was a small shift south. There is a gap in our fence between John Broughton (line 4) and John Talbot (line 5) which is another possibility of where Orcus could have cast its shadow. There were 3 observers registered in this gap in Eastern Australia but all were sadly clouded out.
The fact that we did not see Orcus suggests that it was either close to or south of the predicted path or, in the gap due to a northern shift of about 1500 km. It seems to me that the most probable shift was north into the clouded out zone but we cannot prove this.
Observational Data:

Observation details for MP ( 90482 ) Orcus
By Star              TYC 5476-00882-1
On 2014-03-01  at 16:15:18.0

_______________________________

Observer   John Talbot
Location   Waikanae Beach, NZ
Longitude  +175:01
Latitude   -40:51
Altitude   5 m
Datum      WGS84
Telescope Newtonian
Aperture   25 cm
Seeing     Slight flickering Clear
Camera Type  WAT120N+       PAL/CCIR
Camera Delay -0.35
Timing     GPS - time inserted Video with frame analysis

Missed

Comments: clear, calm, on target, cold 7 C - Sadly no event
Report prepopulated by IOTA Reporting Add-in for OW ver.1.8

_______________________________

Observer   John Broughton
Location   Reedy Creek, QLD, AU
Longitude  +152:37
Latitude   -28:06
Altitude   66 m
Datum      WGS84
Telescope SCT including Cass and Mak
Aperture   25 cm
Seeing     Steady Clear
Camera Type  WAT120N+       PAL/CCIR
Camera Delay -0.11
Timing     GPS - time inserted Video with frame analysis

Missed

Comments:

_______________________________

Observer   Murray Forbes
Location   Lower Hutt,NZ
Longitude  +174:58
Latitude   -41:09
Altitude   25 m
Datum      WGS84
Telescope SCT including Cass and Mak
Aperture   20 cm
Seeing     Steady Clear
Camera Type  WAT120N+       PAL/CCIR
Camera Delay -1.31
Timing     GPS - time inserted Video with frame analysis

Missed

Comments:   Report prepopulated by IOTA Reporting Add-in for OW ver.1.7

_______________________________

Observer   S. Kerr
Location   Rockhampton, QLD,AU
Longitude  +150:30
Latitude   -23:16
Altitude   50 m
Datum      WGS84
Telescope SCT including Cass and Mak
Aperture   30 cm
Seeing     Slight flickering Broken cloud
Camera Type  WAT120N+       PAL/CCIR
Camera Delay -0.11
Timing     GPS - time inserted Video with frame analysis

Missed

Comments: ... but badly cloud effected.
Report prepopulated by IOTA Reporting Add-in for OW ver.1.7

_______________________________

Observer   B. Loader
Location   Darfield,NZ
Longitude  +172:06
Latitude   -43:28
Altitude   210 m
Datum      WGS84
Telescope SCT including Cass and Mak
Aperture   25 cm
Seeing     Strong flickering Clear
Camera Type  WAT120N+       PAL/CCIR
Camera Delay -0.35
Timing     GPS - time inserted Video with frame analysis

Missed

Comments: Occasional wind shake and periods of bad seeing.
Report prepopulated by IOTA Reporting Add-in for OW ver.1.8

_______________________________

Observer   Jacquie Milner
Location   Glen Forrest, WA, AU
Longitude  +116:05
Latitude   -31:54
Altitude   260 m
Datum      WGS84
Telescope SCT including Cass and Mak
Aperture   20 cm
Seeing     Slight flickering Clear
Camera Type  Mintron 12V1C-EX             PAL/CCIR
Camera Delay -0.08
Timing     GPS - time inserted Video with frame analysis

Missed

Comments: None

_______________________________

Observer   William Hanna
Location   Alice Springs, Australia
Longitude  +133:53
Latitude   -23:42
Altitude   584 m
Datum      WGS84
Telescope SCT including Cass and Mak
Aperture   20 cm
Seeing     Steady Clear
Camera Type  Grasshopper Express with ADVS              ADVS
Camera Delay 0
Timing     GPS - time inserted Video with frame analysis

Missed

Comments: gamma 1.0, gain 29dB

        
Return to 2014 occultation results
---
[Site Map]
[What's an Occultation?]
[Total Occultations]
[Grazing Occultations]
[Planetary Occultations]
[Jovian Satellite Eclipses]
[Timing Occultations]
[Reporting Observations]
[Coming Events]
[Software]
[About Us]
[Publications]
[Membership]
[Links]
[Top of Page]
[Return to Home Page]