OCCULTATION OF UCAC4 333-217412 BY 207 Hedda
2013 October 10
---
A 1 second occultation was recorded by Hristo Pavlov, using video OSD technique.
One clearly observed miss was recorded for this event.
View the TT14 prediction.

Observers:
  1(M) D Gault,Kuriwa Observatory, NSW, AU
  2    H Pavlov,St Clair, NSW, Australia
  3(P) Prediction, TT14 28 Sept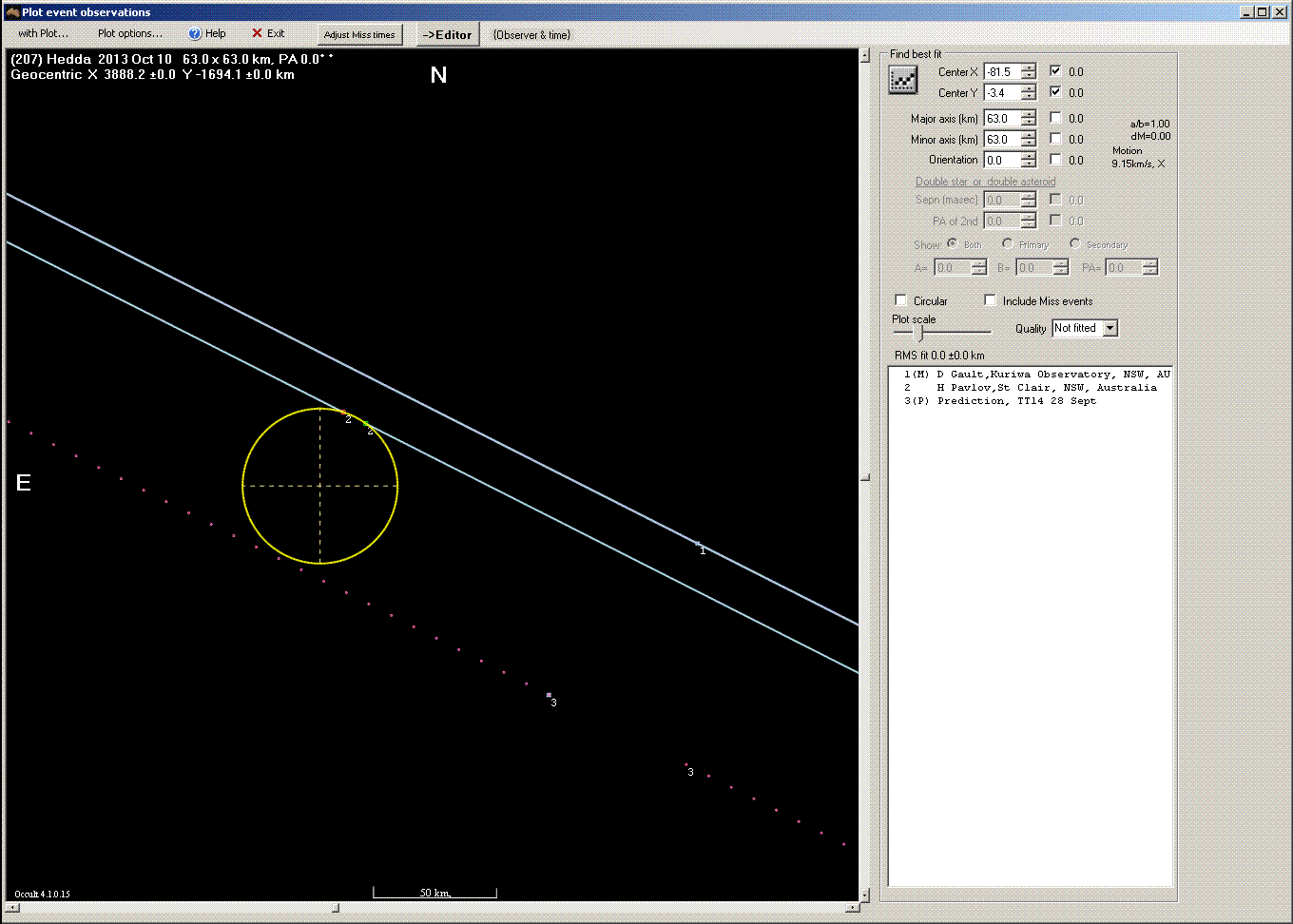 Discussion:
The circle above is plotted at the expected 63 km diameter of Hedda. With one chord and a contraining miss we can be confident of the path of Hedda and that it was north of the predicted line.
The figure below shows the Tangra light curve of Hristo's occultation.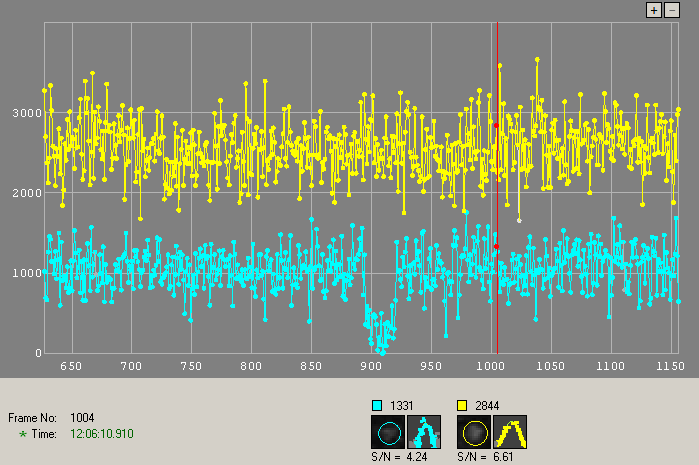 The figure below shows the Limovie/Tangra light curve of Dave's constraining miss.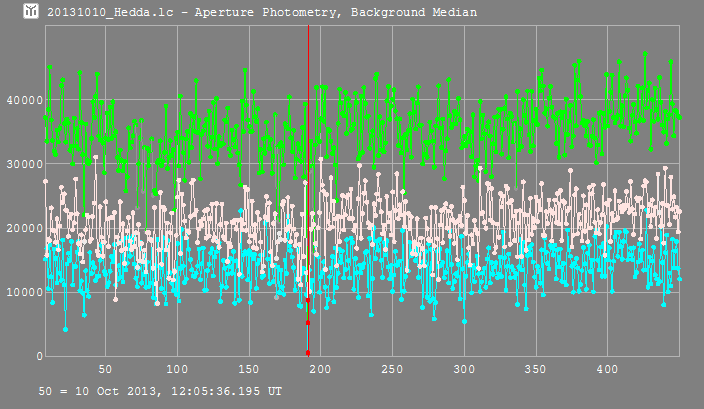 This is a good exaqmple of why we always want to hear about your definite misses as well as the positives.
Observational Data:

Observation details for MP ( 207 ) Hedda
By Star              UCAC4 333-217412
On 2013-10-10  at 12:06:22.0

_______________________________

Observer   Dave Gault
Location   Kuriwa Observatory, NSW, AU
Longitude  +150:38
Latitude   -33:39
Altitude   286 m
Datum      WGS84
Telescope SCT including Cass and Mak
Aperture   30 cm
Seeing     Slight flickering Clear
Camera Type  Grasshopper Express with ADVS              ADVS
Camera Delay 0
Timing     GPS - time inserted Video with frame analysis

Missed

Comments: Tangra lost tracking due to a wind gust occurred
at 12:06:13.8 UT for 1 frame for all stars.

_______________________________

Observer   Hristo Pavlov
Location   St Clair, NSW, Australia
Longitude  +150:46
Latitude   -33:48
Altitude   68 m
Datum      WGS84
Telescope SCT including Cass and Mak
Aperture   35 cm
Seeing     Steady Clear
Camera Type  WAT910HX       PAL/CCIR
Camera Delay -0.03
Timing     GPS - time inserted Video with frame analysis
Disappearance  12:06:06.55
Reappearance   12:06:07.55
Comments: http://www.hristopavlov.net/Observations/Positives/2013-10-10%20Hedda/Event.html
The camera was acctually the new WAT-910BD. I
assume it has the same instrumental delays as WAT-910HX.
I will measure the delays with SEXTA in the next two weeks and will update the report if needed.
Report prepopulated by IOTA Reporting Add-in for OW ver.1.7


        
Return to 2013 occultation results
---
[Site Map]
[What's an Occultation?]
[Total Occultations]
[Grazing Occultations]
[Planetary Occultations]
[Jovian Satellite Eclipses]
[Timing Occultations]
[Reporting Observations]
[Coming Events]
[Software]
[About Us]
[Publications]
[Membership]
[Links]
[Top of Page]
[Return to Home Page]