OCCULTATION OFUCAC4 602-035724 BY 120 Lachesis
2013 October 05
---
A 0.64 second occultation followed by a 4.32 second one of the same depth were recorded by Jonathan Bradshaw, using video OSD technique.
View the TT14 prediction.

Observers:
  1    J Bradshaw,Samford Valley, Qld, AU
  2    J Bradshaw,Samford Valley, Qld, AU
  3(P) Prediction, TT14,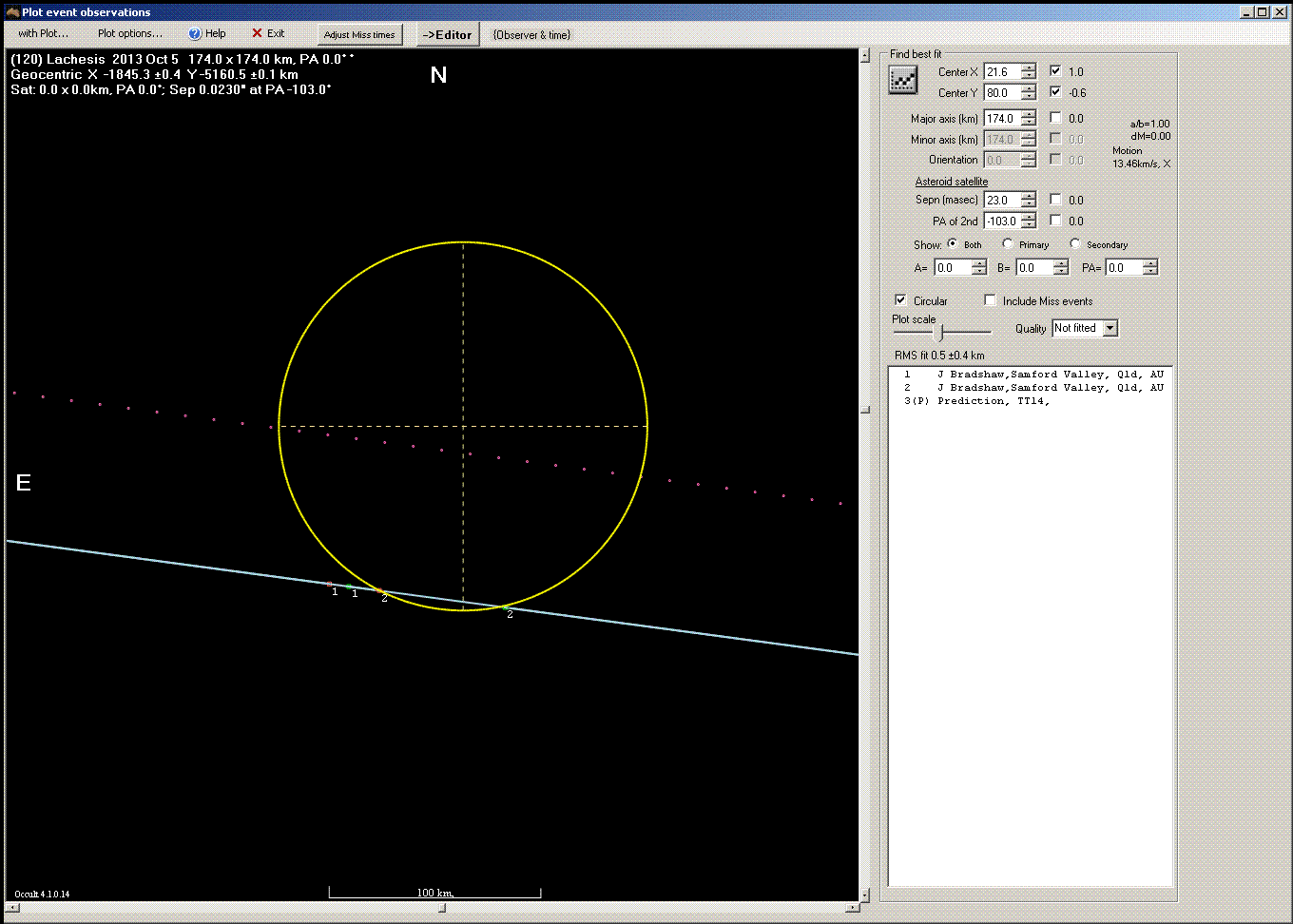 Discussion:
The circle above is plotted at the expected 174 km diameter of Lachesis.
With only one effective chord it is not possible to determine whether Jonathan was north or south of the central line of the event.
The figure below shows the Limovie light curve of the occultation.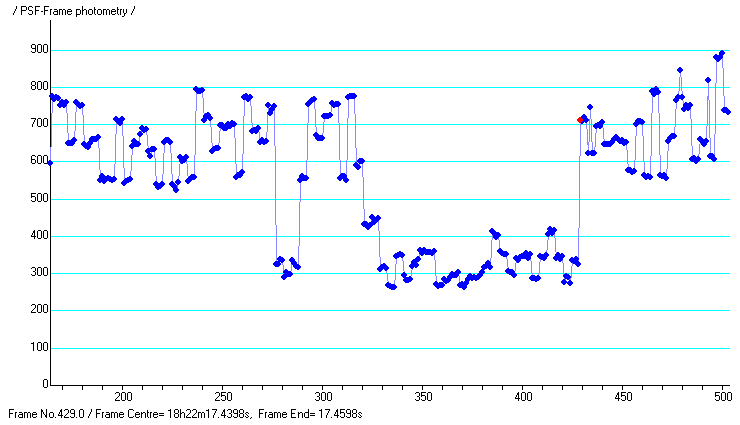 The plot does not explain the double event. There seem to be 3 possible explanations.
Double star with the two componenets of equal magnitude. Exactly equal magnitudes are rare.
Binary asteriod or moon nearby.
Grazing event with star reapearing in a valley. This seems the most probable option.
A well observed event in 1999 March 23 from USA resulted in the following plot:
with the ellipse being 188 x 151 km. If we draw the same sized ellipse for this event and assume the chord is on the southern side and that there is a crater valley there we can get the following plot.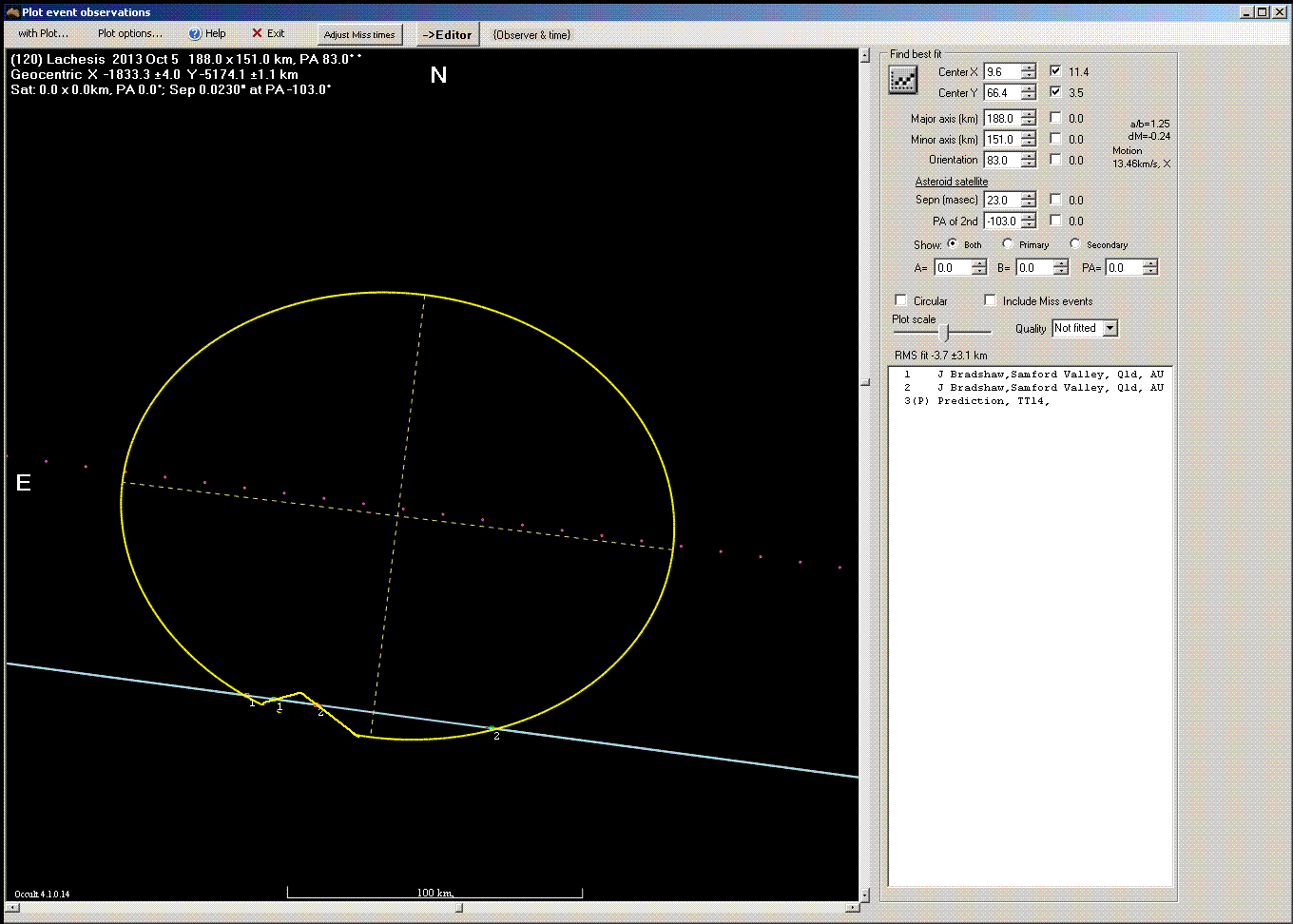 Sadly there is not yet an ISAM or DAMIT 3D model of Lachesis avaiable so we cannot check that, however that may become available in the future.
A chord from another station may have helped to clarify the options better.
Observational Data:

Observation details for MP ( 120 ) Lachesis
By Star              UCAC4 602-035724
On 2013-10-05  at 18:22:36.0

_______________________________

Observer   Jonathan Bradshaw
Location   Samford Valley, Qld, Australia
Longitude  +152:50
Latitude   -27:22
Altitude   80 m
Datum      WGS84
Telescope SCT including Cass and Mak
Aperture   36 cm
Seeing     Steady Clear
Camera Type  G-Star         PAL/CCIR
Camera Delay -0.19
Timing     GPS - time inserted Video with frame analysis
Disappearance  18:22:11.24
Reappearance   18:22:11.88
Comments: Graze? with two D-R events

_______________________________

Observer   Jonathan Bradshaw
Location   Samford Valley, Qld, Australia
Longitude  +152:50
Latitude   -27:22
Altitude   80 m
Datum      WGS84
Telescope SCT including Cass and Mak
Aperture   36 cm
Seeing     Steady Clear
Camera Type  G-Star         PAL/CCIR
Camera Delay -0.19
Timing     GPS - time inserted Video with frame analysis
Disappearance  18:22:13.00
Reappearance   18:22:17.32
Comments: Graze? with two D-R events


        
Return to 2013 occultation results
---
[Site Map]
[What's an Occultation?]
[Total Occultations]
[Grazing Occultations]
[Planetary Occultations]
[Jovian Satellite Eclipses]
[Timing Occultations]
[Reporting Observations]
[Coming Events]
[Software]
[About Us]
[Publications]
[Membership]
[Links]
[Top of Page]
[Return to Home Page]