OCCULTATION OF HIP 94645 BY 576 Emanuela
2013 July 26
---
Two positive chords were recorded by John Broughton, using Video OSD technique.
One clearly observed miss was recorded for this event.
View the updated prediction.

Observers:
  1(M) J Bradshaw,Samford Valley, Qld, Australia
  2    J Broughton,Clothiers Creek, NSW, AU
  3    J Broughton,Brunswick Heads, NSW, AU
  4(P) Prediction, Jul 4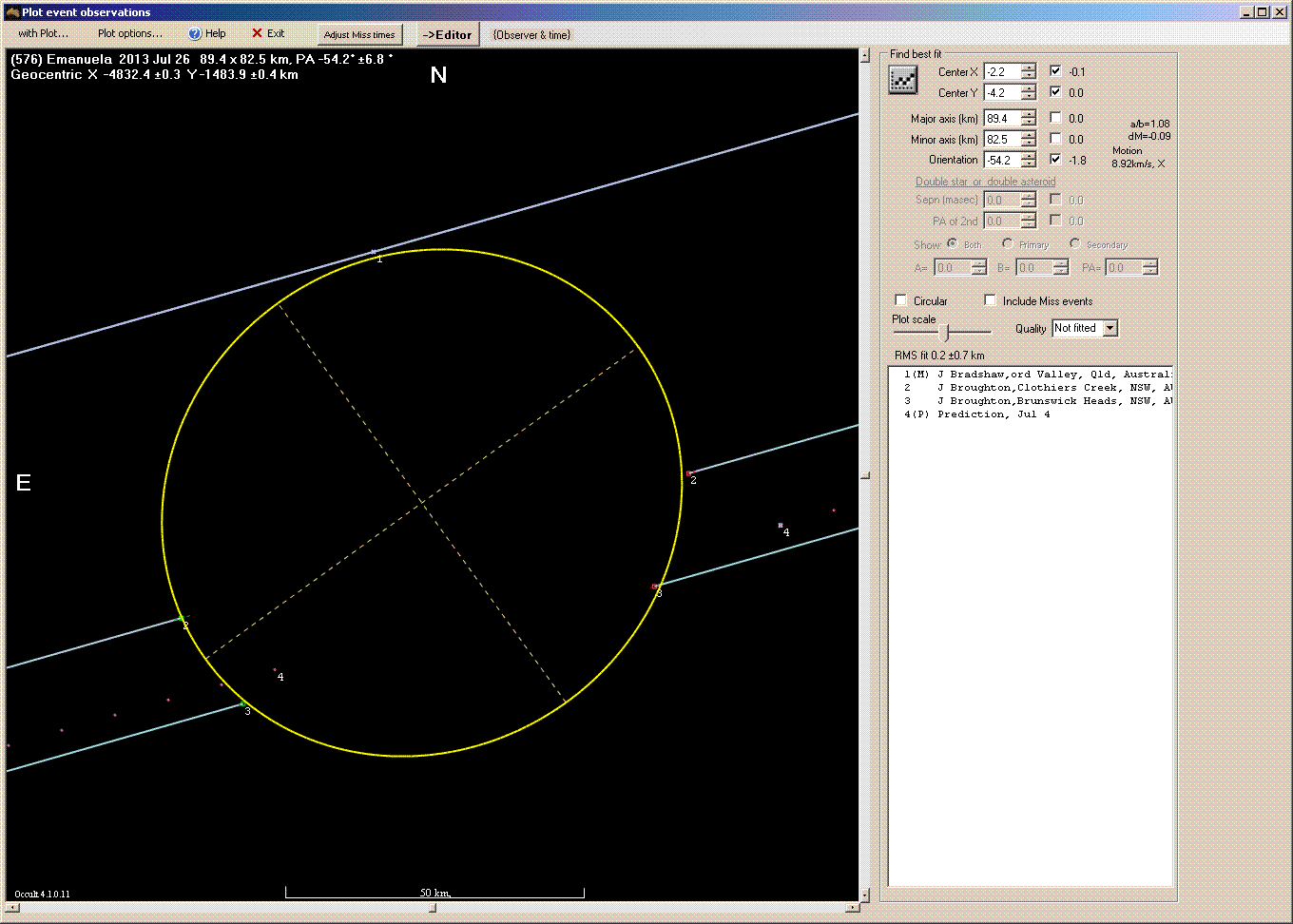 Discussion:
The ellipse above is plotted at the best fit axis ratio as determined by Occult and just missing Jonathan's path. With two chords and a constraining miss we can be confident of the path of Emanuela and that it was north of the predicted line.
Observational Data:

Observation details for MP ( 576 ) Emanuela
By Star              HIP HIP94645
On 2013-07-26  at 08:54:48.0

_______________________________

Observer   Jonathan Bradshaw
Location   Samford Valley, Qld, Australia
Longitude  +152:50
Latitude   -27:22
Altitude   80 m
Datum      WGS84
Telescope SCT including Cass and Mak
Aperture   36 cm
Seeing     Steady Clear
Camera Type  G-Star         PAL/CCIR
Camera Delay 0
Timing     GPS - time inserted Video with frame analysis

Missed

Comments: Perfect conditions  Report prepopulated by IOTA Reporting Add-in for OW ver.1.7

_______________________________

Observer   John Broughton
Location   Clothiers Creek, NSW, AU
Longitude  +153:31
Latitude   -28:20
Altitude   15 m
Datum      WGS84
Telescope Refractor
Aperture    3 cm
Seeing     Slight flickering Clear
Camera Type  LN-300-11673   PAL/CCIR
Camera Delay -0.2
Timing     GPS - other linking Video with frame analysis
Disappearance  08:54:34.70
Reappearance   08:54:44.22
Comments: This miniature recording station has a base fitting on a heavy
paving stone set into the ground and prepointed 19 days in advance.
That enabled it to be placed back in position during daylight,
giving enough time in the dark to set up two stations further south.

_______________________________

Observer   John Broughton
Location   Brunswick Heads, NSW, AU
Longitude  +153:32
Latitude   -28:32
Altitude   16 m
Datum      WGS84
Telescope Newtonian
Aperture   10 cm
Seeing     Slight flickering Clear
Camera Type  LN-300-11673   PAL/CCIR
Camera Delay -0.1
Timing     GPS - other linking Video with frame analysis
Disappearance  08:54:34.26
Reappearance   08:54:41.98
Comments:

        
Return to 2013 occultation results
---
[Site Map]
[What's an Occultation?]
[Total Occultations]
[Grazing Occultations]
[Planetary Occultations]
[Jovian Satellite Eclipses]
[Timing Occultations]
[Reporting Observations]
[Coming Events]
[Software]
[About Us]
[Publications]
[Membership]
[Links]
[Top of Page]
[Return to Home Page]