OCCULTATION OF 2UCAC 23875474 BY 690 Wratislavia
2013 April 11
---
Two positives were recorded by for this event using video OSD technique.
One clearly observed miss was recorded for this event.
View the updated prediction.

Observers:
  1    G McKay,Blenheim, New Zealand
  2    B Allen,Blenheim, NZ
  3(M) C Chad,Gunnedah, NSW,AU
  4(P) Prediction, 28 Feb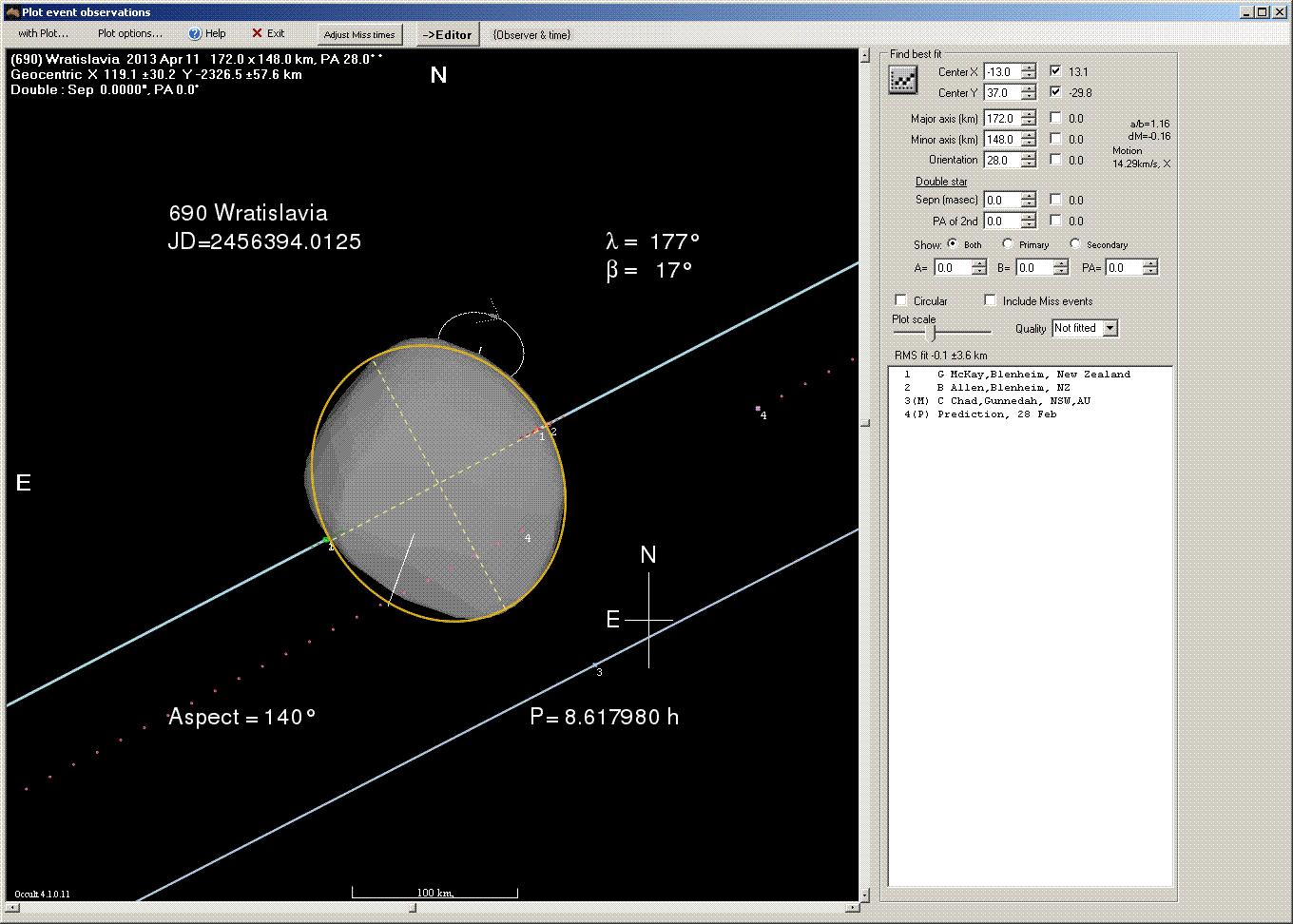 Discussion:
The circle above is plotted at the expected 158 km diameter of Wratislavia. The two are too close to determine a certain position, and Chris's miss is not close enough to constrain a solution. So it is not possible to determine whether Bill and Graeme were north or south of the central line of the event. The ISAM 3D model has been overlaid on the plot and positioned so that the two shapes have approximately the same area and the chord are nearly central, however again the lack of separation means we cannot be sure of the position.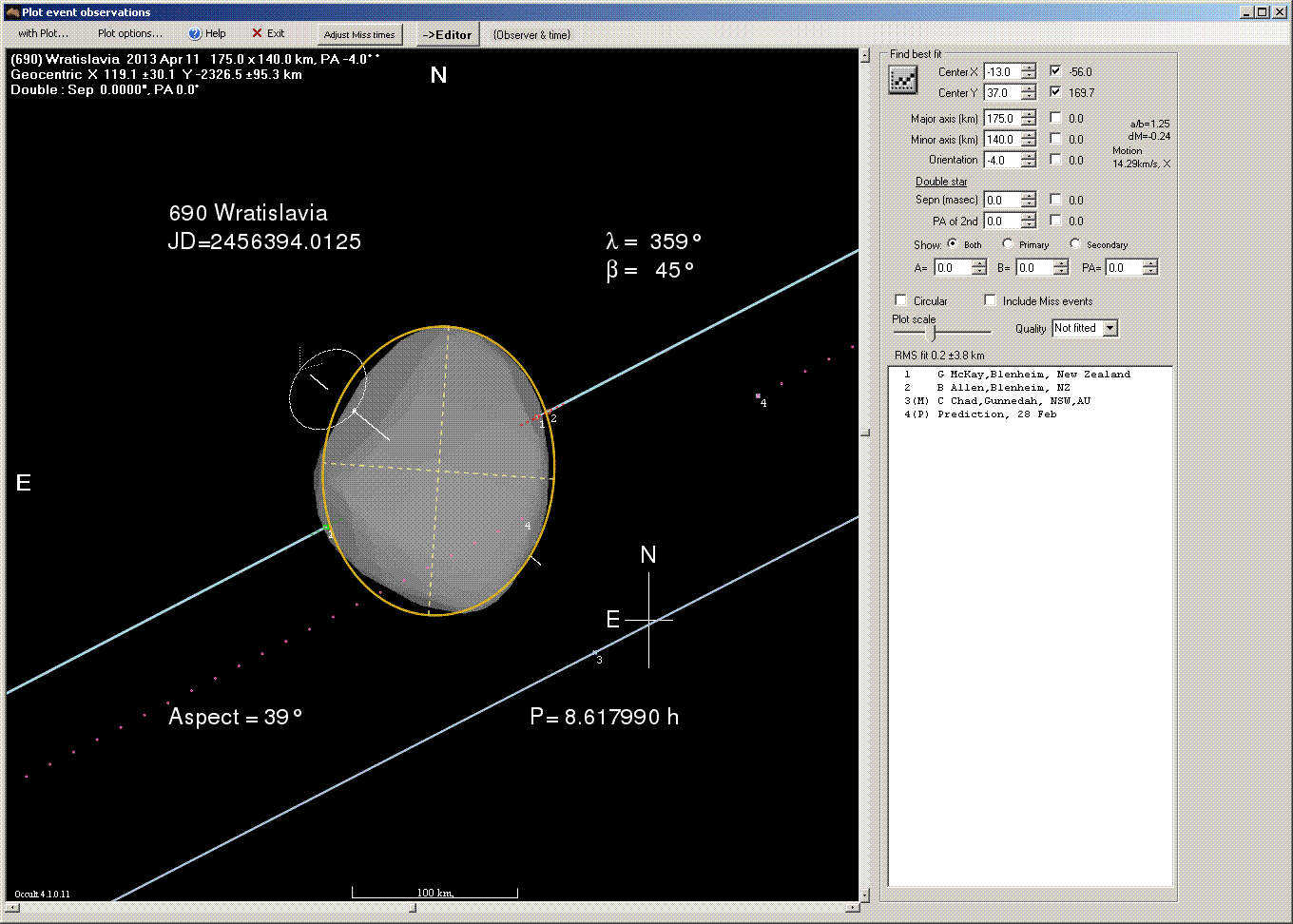 June 2013 -
It has been pointed out that there are two possible ISAM models with different spin axes for this object. The figure above shows the alternative one. However again the lack of separation means we cannot be sure of the of which is the correct one. However a second chord observed in Japan for the 2013 Feb 11 event for Wratislavia indicates that Model #2 above is the better fit.
The figure below shows the Bill's Tangra light curve of the occultation.

Observational Data:

Observation details for MP ( 690 ) Wratislavia
By Star              UCAC2 23875474
On 2013-04-11  at 12:16:40.0

_______________________________

Observer   Graeme McKay
Location   Blenheim, New Zealand
Longitude  +173:57
Latitude   -41:32
Altitude   18 m
Datum      WGS84
Telescope SCT including Cass and Mak
Aperture   28 cm
Seeing     Steady Clear
Camera Type  WAT120N+       PAL/CCIR
Camera Delay 0.35
Timing     GPS - time inserted Video with frame analysis
Disappearance  12:16:42.79
Reappearance   12:16:51.75
Comments: Good observing conditions. Very thin filmy cloud/haze did not affect visibility
Report prepopulated by IOTA Reporting Add-in for OW ver.1.7

_______________________________

Observer   Chris Chad
Location   Gunnedah, NSW,AU
Longitude  +150:15
Latitude   -30:59
Altitude   315 m
Datum      WGS84
Telescope Newtonian
Aperture   25 cm
Seeing     Steady Clear
Camera Type  Samsung SCB-2000             NTSC/EIA
Camera Delay 0.01
Timing     GPS - time inserted Video with frame analysis

Missed

Comments: Lovely clear night, best conditions for a long time.  Clear miss.
Report prepopulated by IOTA Reporting Add-in for OW ver.1.7

_______________________________

Observer   Bill Allen
Location   Blenheim, NZ
Longitude  +173:50
Latitude   -41:29
Altitude   38 m
Datum      WGS84
Telescope SCT including Cass and Mak
Aperture   40 cm
Seeing     Steady Clear
Camera Type  WAT120N+       PAL/CCIR
Camera Delay 0.35
Timing     GPS - time inserted Video with frame analysis
Disappearance  12:16:42.97
Reappearance   12:16:52.37
Comments: Datum NZ1949 (topographical map)


        
Return to 2013 occultation results
---
[Site Map]
[What's an Occultation?]
[Total Occultations]
[Grazing Occultations]
[Planetary Occultations]
[Jovian Satellite Eclipses]
[Timing Occultations]
[Reporting Observations]
[Coming Events]
[Software]
[About Us]
[Publications]
[Membership]
[Links]
[Top of Page]
[Return to Home Page]