OCCULTATION OF TYC 6231-02093-1 BY 570 Kythera
2012 February 16
---
A 4.17 second occultation was recorded by Brian Loader, using video OSD technique.
Four clearly observed misses were recorded for this event.
View the updated prediction.

Observers:
  1    B Loader,Darfield,NZ
  2(M) D Gault,Hawkesbury Heights,NSW,AU
  3(M) B Allen,Blenheim, NZ
  4(M) G McKay,Blenheim,NZ
  5(M) J Talbot,Waikanae Beach, NZ
  6(P) Prediction, 26 Jan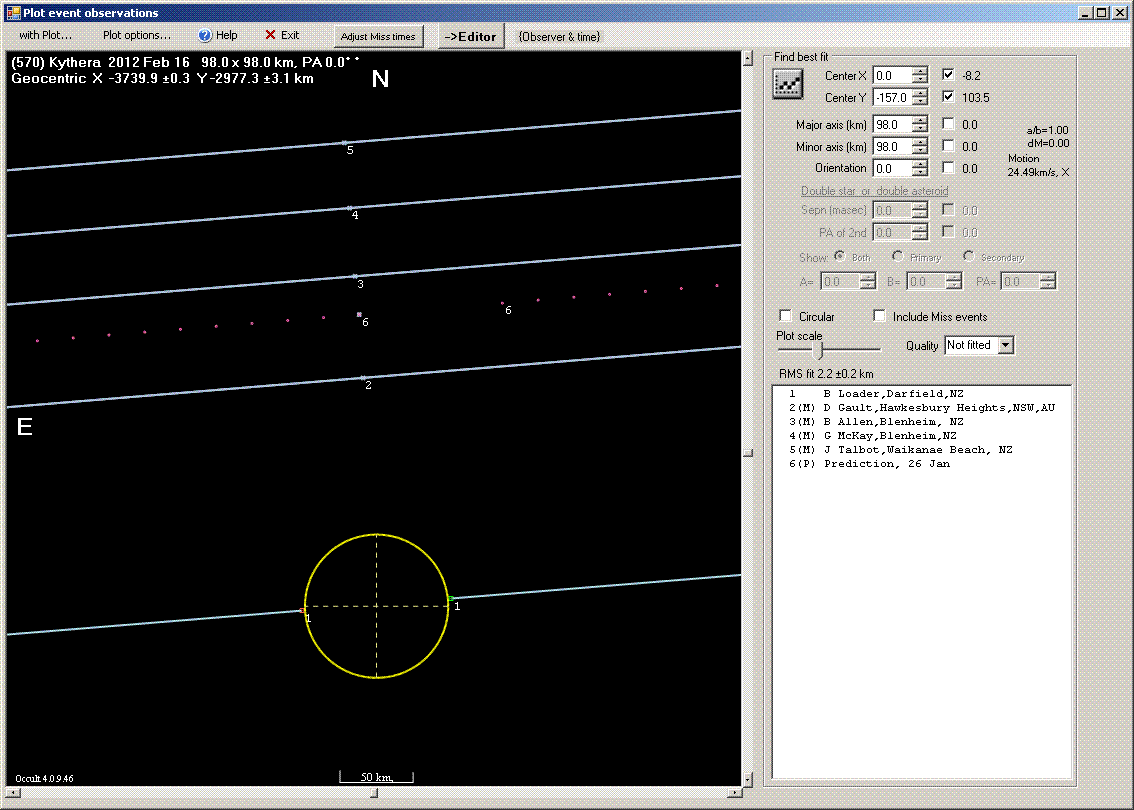 Discussion:
The circle above is plotted at the expected 98 km diameter of Kythera. With only one chord it is not possible to determine whether Brian was north or south of the central line of the event. However, assuming the updated prediction was approximately correct the slightly longer than expected chord of about 101 km would suggest that the chord might lie close to the central portion of the asteroid.
The figure below shows the Limovie light curve of the occultation.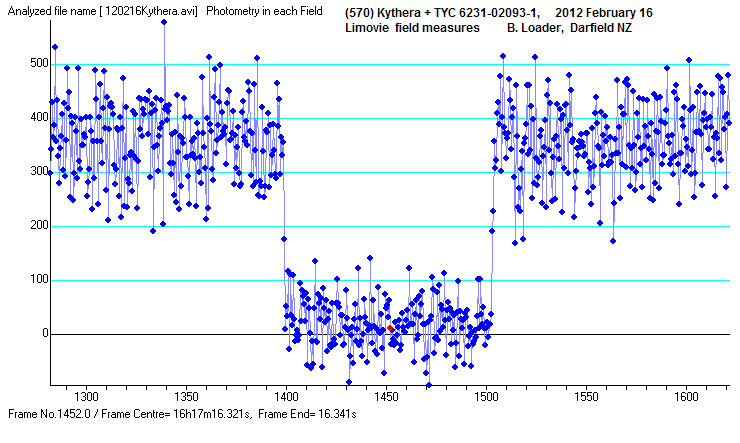 Brian was about 120 km from the predicted centre in the 2 sigma zone. The big shift in is apparently caused by the Tycho catlog listing this star as a single and John Talbot saw trhe star as a short streak, but it is obvious looking a Bill Allen' field below that it is in fact a double with the two components having similar magnitude.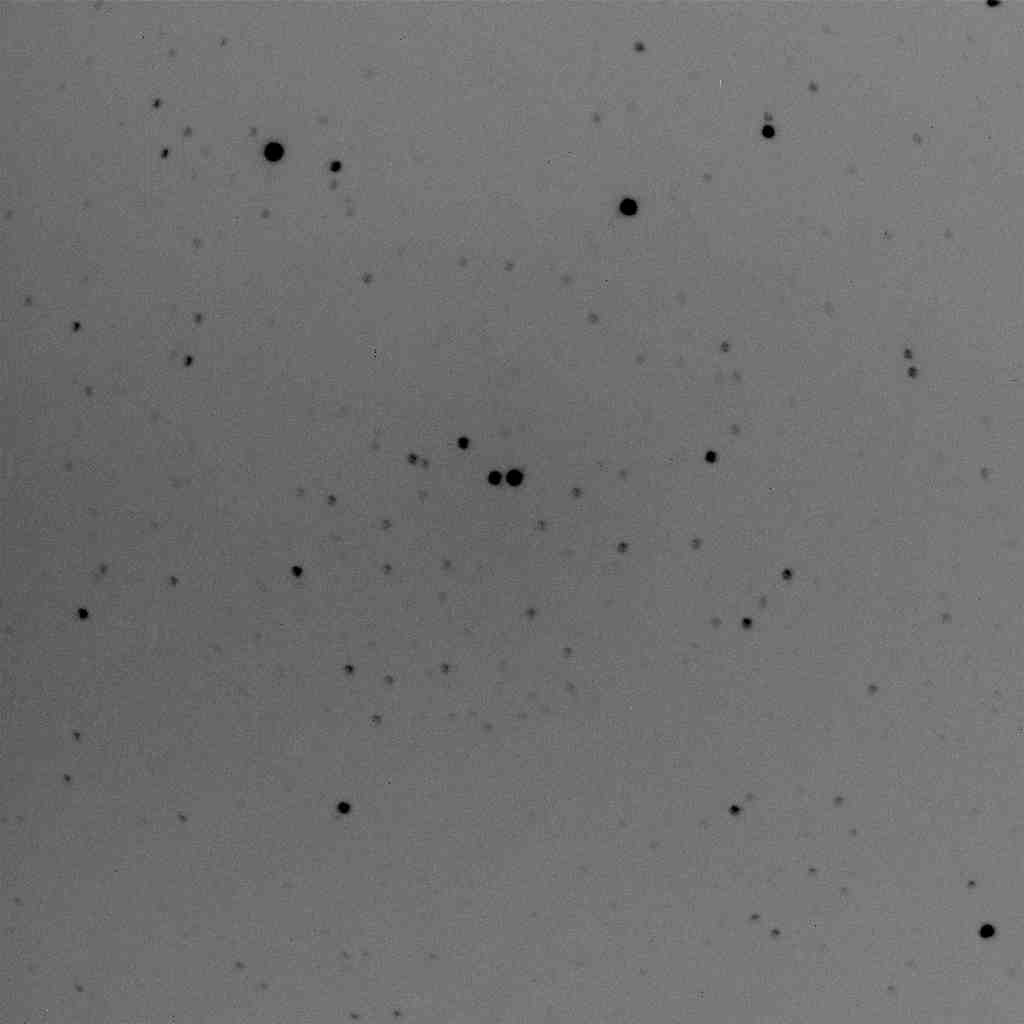 The new UCAC4 catalog lists the two as 339-084852 and 339-084856 it is the former that appears to have been observed.
Observational Data:

Observation details for MP ( 570 ) Kythera
By Star              TYC 6231-02093-1
On 2012-02-16  at 16:17:17.0
_____________________________
Observer   B. Loader
Location   Darfield,NZ
Longitude  +172:06
Latitude   -43:28
Altitude   210 m
Datum      WGS84
Telescope SCT including Cass and Mak
Aperture   25 cm
Seeing     Steady Clear
Camera Type  PC164C         PAL/CCIR
Camera Delay 0
Timing     GPS - time inserted Video with frame analysis
Disappearance  16:17:14.19
Reappearance   16:17:18.36
Comments: Clear event
Report prepopulated by IOTA Reporting Add-in for OW ver.1.6

_______________________________

Observer   John Talbot
Location   Waikanae Beach, NZ
Longitude  +175:01
Latitude   -40:51
Altitude   5 m
Datum      WGS84
Telescope Newtonian
Aperture   25 cm
Seeing     Steady Clear
Camera Type  KTC530         PAL/CCIR
Camera Delay 0
Timing     GPS - time inserted Video with frame analysis

Missed

Comments: Clear calm on target, no event seen
Report prepopulated by IOTA Reporting Add-in for OW ver.1.6

_______________________________

Observer   Bill Allen
Location   Blenheim, NZ
Longitude  +173:50
Latitude   -41:29
Altitude   38 m
Datum      WGS84
Telescope SCT including Cass and Mak
Aperture   40 cm
Seeing     Steady Clear
Camera Type
Camera Delay
Timing     GPS - time inserted Video with frame analysis

Missed

Comments: Datum NZ1949 (topographical map)
Good observing conditions air mass 1.5 Video with GPS

_______________________________

Observer   Dave Gault
Location   Hawkesbury Heights,NSW,AU
Longitude  +150:38
Latitude   -33:39
Altitude   286 m
Datum      WGS84
Telescope SCT including Cass and Mak
Aperture   30 cm
Seeing     Steady Clear
Camera Type  WAT120N        PAL/CCIR
Camera Delay 0.05
Timing     GPS - time inserted Video with frame analysis

Missed

Comments:

_______________________________

Observer   Graeme McKay
Location   Blenheim,NZ
Longitude  +175:37
Latitude   -41:32
Altitude   19 m
Datum      WGS84
Telescope SCT including Cass and Mak
Aperture   20 cm
Seeing     Steady Clear
Camera Type  WAT120N        PAL/CCIR
Camera Delay 0.09
Timing     GPS - time inserted Video with frame analysis

Missed

Comments: Star identified OK. Good conditions
Report prepopulated by IOTA Reporting Add-in for OW ver.1.6

        
Return to 2012 occultation results
---
[Site Map]
[What's an Occultation?]
[Total Occultations]
[Grazing Occultations]
[Planetary Occultations]
[Jovian Satellite Eclipses]
[Timing Occultations]
[Reporting Observations]
[Coming Events]
[Software]
[About Us]
[Publications]
[Membership]
[Links]
[Top of Page]
[Return to Home Page]